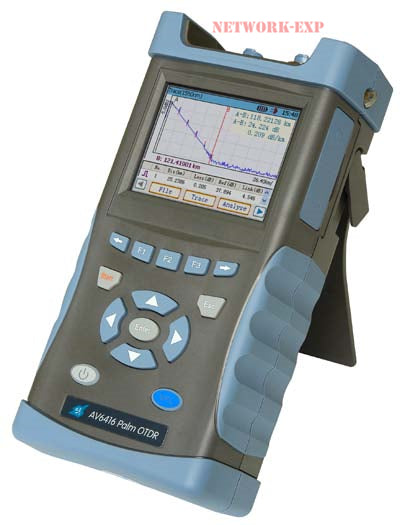 Features:
 Palm, lightweight, convenient to carry;
The most advanced technology of double color & material integrative module, strong and firm;
 Advanced antireflection LCD, clear display interface in field;
 1.6m ultra-short event dead zone, easy to test optical fiber jumper;
 Automatic & manual test function;
 Automatic detection of the communication light signal;
 Touch screen and keyboard operation;
 Two USB interfaces: can connect to the external U disk, or communicate with PC through SyncActive software;
 Support Bellcore GR196 and SR-4731 file format;
 Intelligent indication of battery capacity, alarm when the battery is running out;
WinCE window operation system, Chinese/ English operation interface;
 Large capacity lithium battery to support over 10 hours of operation, suitable for long-time filed work;
Built-in visible fault locator (VFL) function;
The OTDR optical output connectors are exchangeable, so it is more convenient to clean the end surface;
Application software on-line upgrading, no need to return back to factory.
Ultra-short event dead zone
AV6416 palm OTDR has ultra-short event dead zone, which is especially suitable to test the short optical fiber line and optical fiber jumper.
Product Overview:

AV6416 palm OTDR is a test instrument designed for FTTx. It's mainly used to measure the physical characteristics of optical fiber & cables, including length, transmission loss and splice loss etc. It can also accurately locate the event point and fault point along the optical fiber line. It's widely applied to the engineering construction, maintenance test, and urgent repairing of optical fiber communication system, as well as the R&D, manufacturing, and test of optical fiber & cables.

 

 

AV6416 palm OTDR adopts the most advanced technology of double color & material integrative mould, which makes it novel and beautiful in appearance, strong and firm in structure. With antireflection LCD display, the operation interface is quite clear even in field environment. Two power supply modes are available. With the large capacity lithium battery, the instrument can work more than 10 hours. It has two types of USB interfaces, which can connect to the U disk, or can communicate with PC through USB cable. In addition, it provides comfortable straps for convenient carrying.

 

 

AV6416 Palm OTDR is mainly used to test FTTx network. It provides a low cost test solution for users. AV6416 offers three test modes: manual (real-time, averaging), automatic, and dead zone.

Manual test mode: manual mode is suitable for skilled operators who are familiar with the instrument, so that to get more accurate test result. In manual test mode, real-time mode or averaging mode can be selected based on user demand.

Real-time test can rapidly detect the dynamic changes of the optical fiber line. It is applicable to real-time monitor or observe the optical fiber connection process and effect.

Averaging test mode can maximally suppress the noise in the testing curve, so to get a more accurate result. Under averaging test mode, the more averaging times, the better suppression of the noise, but the longer time it takes. So, in practice, the averaging times should be set properly according to necessity.

Automatic test mode: under this mode, the instrument can automatically set the optimized test conditions, and give out the test result. There is no need for the operators to know about the complicated background knowledge and the operation details. To enhance the automatic test efficiency, the averaging times can be increased properly, though it will prolong the test time.

Dead zone mode: this mode is suitable to test the optical fiber with short distance, for example, to test the jumper length of the optical fiber. Under this mode, to get the best result, the reflection loss (or called return loss) of the fiber terminal is required to be larger than 40dB.