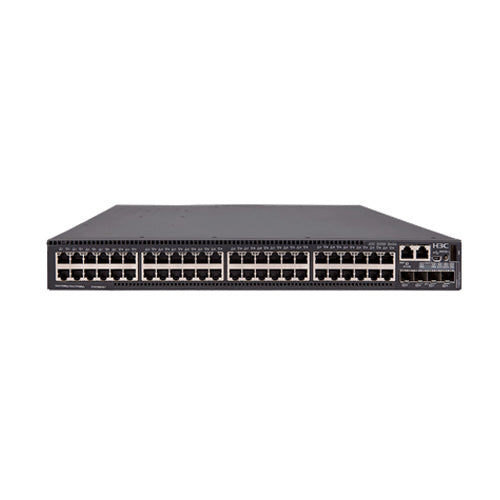 LS-S5800-56C-EI-M 48-port Gigabit 4-port 10 Gigabit uplink Layer 3 core switch
Quick Details:
Products Status:Stock

Ports:48

Transmission Rate:10/100/1000Mbps

Function:QoS, VLAN Support

Certification:CCC

Switch Capacity:758Gbps

Brand Name:H3C

Model Number:LS-S5800-56C-EI-M

Place of Origin:Guangdong, China

Warranty:1year

Dimensions (W x D x H):

440*460*43.6mm
Packaging & Delivery:
Packaging Details:
Port:

HongKong
Lead Time

 

:


| | | |
| --- | --- | --- |
| Quantity(Pieces) | 1 - 1 | >1 |
| Est. Time(days) | 30 | To be negotiated |

Product Description:

Supported Features

S5800-32C-EI

S5800-56C-EI

S5800-56C-EI-M

Switching capacity

758Gbps/7.58Tbps

Packet forwarding rate (machine)

333Mpps

369Mpps

369Mpps

Dimensions (width × depth × height) (unit: mm)

440×460×43.6

440× 460 ×43.6

440× 460 ×43.6

Weight

≤ 9kg

≤ 9.5kg

≤ 9.5kg

Management serial port

1 serial Console, 1 Mini USB Console port, both can only use one at a time, Mini USB Console has higher priority than serial
Console

Management network port

1

USB

1

Front Panel Service Port Description

24 10/100/1000Base-T Ethernet ports, 4 1G/10Gbps SFP+ ports

48 10/100/1000Base-T Ethernet ports, 4 1G/10Gbps SFP+ ports

48 10 /100/1000Base-T Ethernet port, 4 1G/10Gbps rate SFP+ ports

Expansion slot

2 Slot expansion slots

2 Slot expansion slots

2 Slot expansion slots

Link aggregation

Supports1G/10G/40G port aggregation

Support static aggregation

Support dynamic aggregation

Support cross-device aggregation

Port Features

Support 802.3x flow control (full duplex)

Supports storm suppression based on port rate percentage

Support PPS-based storm suppression

Support bps-based storm suppression

Jumbo Frame

supports a maximum frame length of 10,000

MAC address table

Supports black hole MAC address

Supports setting the maximum number of port MAC addresses

VLAN

supports port-based VLAN

VLAN supporting IP subnet

Support protocol VLAN

Support MAC VLAN

Support QinQ, flexible QinQ

Support for Voice VLAN

DHCP

supports DHCP Client

Support DHCP Snooping

Support DHCP Relay

Support DHCP Server

Support DHCP Option82

DNS

supports static domain name resolution

Support dynamic domain name resolution client

Support for IPv4 and IPv6 addresses

IRF2 intelligent elastic architecture

supports IRF2 intelligent elastic architecture

Support distributed device management, distributed link aggregation, distributed elastic routing

Supports stacking through standard Ethernet interfaces, and supports 2-9 stacks.

Support local stacking and remote stacking

IP routing

Supports IPv4/IPv6 static routing

Support RIPv1/v2, /RIPng

Support OSPFv1/v2, OSPFv3

Support BGP, BGP4+

Support ISIS, ISISv6

Support equal cost routing, policy routing

Support VRRP/VRRPv3

Multicast

support IGMP Snooping

Support MLD Snooping

Support for multicast VLAN

Support PIM SM

Support PIM DM

Support MSDP

Support for two-way PIM

MPLS

supports MPLS forwarding, including MPLS LER/MPLS LSR

Support LSP

Support LDP

Support MPLS TE

Support L2VPN

Support L3VPN

Support VPLS

Support MCE

Mirror

support port mirroring

Support N:1 port mirroring

Support N: 4 port mirroring

Support for remote mirroring

OAM

supports 802.1ag

Support 802.3ah

Layer 2 ring network features

Support STP/RSTP/MSTP protocol

Support SmartLink

Support RRPP

Support ERPS Ethernet Ring Protection Protocol (G.8032)

QoS/ACL

supports 802.1p/DSCP priority marking

Support L2 (Layer 2) ~ L4 (Layer 4) packet filtering

Support 8 queues per port

Support SP/WRR/SP+WRR/WDRR/WFQ queue schedulin

Support WRED

Supports port-based rate limiting with a minimum granularity of 8Kbps

Support for stream-based redirection

Support for time-based ACLs

Security features

Support user hierarchical management and password protection

Support for port-based authentication and MAC-based authentication

Support AAA certification

Support Radius certification

Support HWTACACS

Support SSH2.0

Support port isolation

Support Portal authentication

ARP detection can be performed based on DHCP snooping security entries, 802.1x entries, or IP/MAC static binding entries.

Support port security

DHCP snooping can be supported to prevent fraudulent DHCP servers

Support IP/Port/MAC binding function

Support for HTTPs

Supports plain text and MD5 cipher text authentication for OSPF and RIPv2 packets.

Support PKI (Public Key Infrastructure)

Support EAD

Management and maintenance

Support Xmodem/FTP (File Transfer Protocol)/TFTP (Trivial File Transfer Protocol) to implement load upgrade

Support for command line interface (CLI) configuration

Support Telnet remote configuration

Support through the console port configuration

Support SNMP (EImple Network Management Protocol)

Support RMON (Remote Monitoring) alarms, events, and history

Support iMC network management system

Support system log

Support hierarchical alarm

Support IRF

Support NTP

Support power, fan, temperature alarm

Support debugging information output

Support Ping, Tracert

Support Telnet remote maintenance

Support NQA

支持802.1ag

Support 802.3ah

Support DLDP

Support for Virtual Cable Test

Input Voltage

LSVM1AC300 AC Power Module:
Rated voltage range: 100V~240V AC, 50~60Hz
Maximum voltage range: 90V~264V AC, 47~63Hz
LSVM1DC300 DC power supply mode:
Rated voltage range: -48V~-60V DC
Maximum voltage range: -36V~-72V DC

Static power consumption

AC:78W

AC:86W

AC:91W

DC:78W

DC:89W

DC:91W

Maximum power consumption

AC:178W

AC:185W

AC:208W

DC:163W

DC:173W

DC:201W

Working environment temperature

0℃~45℃

Working environment relative humidity (non-condensing)

5%~95%

Large entries (table entries are dynamically adjustable)

The host of the H3C S5800-EI series has flexible expansion of large-scale entries. It can meet the user access requirements of large devices in the campus and meet the dual-stack user access requirements of IPV4/IPV6. At the same time, specific hosts support off-chip expansion. Capabilities can implement larger MAC entries, routing entries, and so on.In addition, the S5800-EI series switches can dynamically adjust the entries of the entries. You can use the command line to implement different entry modes to meet the networking requirements of different users.

Open multi-service architecture (dual OAP card)

Based on the H3C Open Service Architecture (OAA), the H3C S5800-EI series switches not only provide the functions of traditional switches, but also integrate high-performance dual OAP module cards including FW, IPS, and load balancing to make the S5800EI switch a fusion. Multi-service hosting platform.

MACsec hardware encryption

Macsec is a link layer security protocol for Hop by Hop that is very suitable for Ethernet. It implements the following three functions:

1) Message Encryption: The encryption text and the key are used to change the plaintext into garbled ciphertext, which is difficult to decrypt even if it is eavesdropped.

2) Anti-replay attack: Prevents hackers from intercepting the packets received by the destination host and sending them to the destination host again to achieve the purpose of deceiving the destination host, such as identity authentication.

3) Anti-tampering: Prevent hackers from tampering with the original message content to achieve ulterior motives.

Macsec implementation is divided into two modes:

1) Host-oriented mode: The first hop protection for the terminal to access the network.

2) Device-oriented mode: protection of interconnected links between user equipments.

The H3C S5800EI series switches integrate MACsec security encryption with our inode smart client and core switches (S10500, S75E) to build a complete MACsec solution.

High performance port expansion capability

The H3C S5800-EI series switches are solidified with four 10 Gigabit optical ports to provide the most cost-effective port combination to achieve the lowest cost interconnection solution and meet the user's 1:1 non-converged network deployment requirements.

The H3C S5800-EI series switches support rich and flexible port expansion boards, including 8-port 10 Gigabit optical/electric expansion boards, 2-port 10 Gigabit optical/electrical interface boards, and 2-port 40G expansion boards. Supports 14 10G ports or 4 40G ports to achieve high-density, high-performance port expansion capability, meeting the needs of large-scale network aggregation or small and medium-sized network core deployment, and configuration requirements for opto-electric hybrid networking.

IRF2 (Second Generation Intelligent Resilient Architecture)

The H3C S5800-EI series switches support IRF2 (second-generation intelligent elastic architecture) technology to support high-bandwidth stacking. IRF2 connects multiple physical devices to each other and makes them virtual as a logical device. You can think of these multiple devices as a single device for management and use. IRF can bring the following benefits to users:

After simplifying the management of the IRF architecture, you can connect to any port on any device to log in to a unified logical device. By configuring a single device, you can manage the entire intelligent elastic system and all member devices in the system without using it. Physically connect to each member device to configure and manage them separately.

The various control protocols running in the logical device formed by the simplified service IRF are also uniformly operated as a single device. For example, the routing protocol is uniformly calculated as a single device, and the cross-device link aggregation technology can replace the original generation. The tree protocol, which eliminates the interaction of a large number of protocol packets between devices, simplifies network operation and shortens the convergence time of network turbulence.

Flexible expansion can be flexibly expanded according to user needs to ensure user investment. The newly added device can be hot swapped when it joins or leaves the IRF architecture, and does not affect the normal operation of other devices.

High reliability The high reliability of IRF is reflected in three aspects: link, device and protocol. The physical port of the member device supports the aggregation function. The physical connection between the IRF system and the upper and lower devices also supports the aggregation function. This improves the reliability of the link through multi-link backup. The IRF system consists of multiple member devices. Once the master device fails, the system will automatically elect a new master to ensure that the service through the system is not interrupted, thus achieving device-level 1:N backup; the IRF system will have real-time protocol hot backup function responsible for the configuration information of the protocol. Back up to all other member devices to achieve 1:N protocol reliability.

High performance For high-end switches, performance and port density gains are limited by the hardware architecture. The performance and port density of the IRF system is the sum of the performance and port count of all devices within the IRF. Therefore, the IRF technology can easily increase the switching capacity of the device and the density of the user port by several times, thereby greatly improving the performance of the device.

SDN (software defined network)

Software Defined Network (SDN) is an innovative network architecture system. Its core technology Openflow passes the control layer of the network and The data forwarding layer is separated, which greatly simplifies the management and maintenance of the network. More importantly, it realizes flexible control of network traffic and provides a good network platform for innovation of core networks and applications. The S5800-EI series switches support large-scale flow tables. The H3C SDN controller can easily implement large-scale Layer 2 architecture networking and provide users with fast user-added functions. This greatly reduces the difficulty of network management and significantly reduces the difficulty. The cost of network maintenance.

Multi-service support capability

The H3C S5800-EI series switches support Multi-VRF and can be used as MCE devices. It supports Layer 3 MPLS VPN and Layer 2 MPLS VPN (Martini, Kompella) and cooperates with H3C MPLS VPN Manager to implement graphical MPLS deployment. And maintenance. Full support for VPLS features, providing end-to-end Layer 2 VPN access solutions, supporting MPLS/VPLS full line rate forwarding, meeting VPLS scale deployment requirements.

Complete security control strategy

The H3C S5800-EI series switches support the EAD (Terminal Admission Control) function. The back-end system can integrate terminal security measures such as terminal anti-virus and patch repair with network security measures such as network access control and access control to form a coordinated security. The system, through the inspection, isolation, repair, management and monitoring of the network access terminal, makes the entire network become passive defense for active defense, change single point defense for comprehensive defense, and decentralized management for centralized policy management, improving network to virus The overall defense capabilities of emerging security threats such as worms.

The H3C S5800-EI series switches support centralized MAC address authentication, 802.1x authentication, and PORTAL authentication. They support dynamic or static binding of user IDs such as user accounts, IP, MAC, VLAN, and port, and implement user policies (VLAN, QoS). Dynamic release of ACLs; support for real-time management of online users with H3C's iMC system, timely diagnosis and disintegration of network illegal behavior.

The H3C S5800-EI series switches provide enhanced ACL control logic, support for large-capacity ingress and egress port ACLs, and support VLAN-based ACL delivery. This simplifies the user configuration process and avoids the waste of ACL resources. In addition, the S5800-EI series will also support unicast reverse path lookup technology (uRPF). The principle is that when a packet is received on an interface of the device, the path is reversely searched to verify whether there is a packet from the receiving interface. The routing between the source addresses is verified, and the authenticity is verified. If it does not exist, the data packet is deleted, so that we can effectively eliminate the increasingly widespread source address spoofing in the network.

Green technology

The H3C S5800-EI series is a new generation of green energy-saving Ethernet switches of H3C. It adopts various green energy-saving designs, including auto-power-down. If the interface status is always down for a period of time, the system automatically stops. The interface is powered and automatically enters the energy-saving mode. The EEE energy-saving function is supported. If the port is idle for a continuous period of time, the system will set the port to the energy-saving mode. When a packet is sent or received, the port will wake up through the monitored stream that is sent periodically. Recover business, achieve energy-saving effects, and meet the EU RoHS standards for environmental protection and safety of materials.

Multiple reliability protection

The S5800-EI series switches have multiple reliability protections at the device level and link level.

The S5800-EI series switches support pluggable AC and DC power modules and pluggable dual-fan reliability. The AC or DC power modules can be flexibly configured according to the requirements of the actual environment. In addition, the S6800-EI series supports power and fans. Fault detection and alarms can automatically adjust the fan speed according to temperature changes. These designs make the equipment more reliable.

In addition to device-level reliability, the product also supports a variety of link-level reliability technologies, including protection protocols such as LACP/STP/RSTP/MSTP/Smart Link/RRPP fast ring network protection mechanism, and supports IRF2 intelligent elastic architecture. : N redundancy backup, which supports ring stacking and supports link aggregation across devices. This greatly improves network reliability. When the network carries multiple services and large traffic, it does not affect the convergence time of the network.

Rich QoS strategy

The H3C S5800-EI series switches support L2 (Layer 2) to L4 (Layer 4) packet filtering, providing source MAC address, destination MAC address, source IP address, destination IP address, TCP/UDP port number, and protocol type. VLAN traffic classification. Provides a flexible pair scheduling algorithm that can be set based on ports and queues at the same time. It supports five modes: SP (Strict Priority), WRR (Weighted Round Robin), SP+WRR, WFQ, and WDRR. Supports the CAR (Committed Access Rate) function with a minimum granularity of 8Kbps. Supports port mirroring in both directions. It is used to monitor packets on the specified port and copy the packets on the port to the monitoring port for network detection and troubleshooting.

Excellent management

The H3C S5800-EI series switches support a variety of management interfaces, such as the console port, the mini usb port, and the outband network management port. The SNMPv1/v2/v3 (Simple Network Management Protocol) supports the common network management platform such as Open View and iMC intelligent management. center. Support CLI command line, TELNET, make device management more convenient, and support encryption methods such as SSH2.0, making management more secure.

The H3C S5800-EI series switches support SPAN/RSPAN/ERSPAN mirroring and multiple mirrored observing ports. The network traffic can be analyzed to take corresponding management and maintenance measures, so that the invisible network service application traffic can be seen at a glance. A variety of network flow analysis reports help users optimize network structure and adjust resource deployment in a timely manner.

Our Certificates

Product packaging



1. DHL / UPS / FedEx / TNT , Door-to-Door. 

2. By Air or by Sea , for FCL; Airport/ Port receiving.

 


3. Customers Specifying Freight Forwarders or Negotiable Shipping Methods.

 


We will choose the best and safe packaging material to make sure your orders won't be
damaged during delivery.