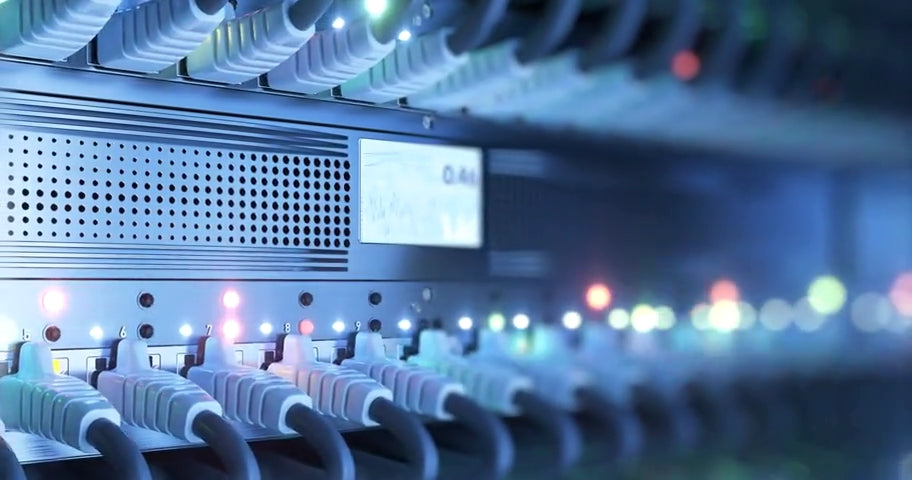 Best Small Business Switch 2019
Ethernet switches are a part of every network. Any business that needs to have devices communicate with each other will need a switch. Choosing the right switch takes a bit of understanding of your needs.
This list offers unmanaged and managed switches. The difference is how much control you'll need over the devices in your business. Unmanaged switches are "plug-n-play". You can't control traffic priorities; it's all preset. This is fine for home businesses or small businesses. A larger business or one with more traffic might need a managed solution. This allows you to control which devices get priority as traffic flows through the switch. 
If you're unsure, you will do well to get an unmanaged device. The chip inside controls the flow of traffic, so you don't have to spend a lot of time telling it what to do.
1. Linksys LGS116P (unmanaged)
https://www.linksys.com/us/p/P-LGS116P/
Linksys is one of the world's leading computer peripherals manufacturers, especially for consumers and small business. The LGS116P has 16-port switches. Because the cooling vents are on the sides, it can be laid flat on a shelf or wall-mounted. It relies on passive cooling, so a fan or two might be needed to keep it cool.
There are 16 Gigabit 10/100/1000 Ethernet ports. The first eight have PoE+ support. These ports allow you to connect compatible devices, transfer data, and receive power over the Ethernet. The total power budget is 80 W.
The LGS116P is equipped with a Marvell 88E1685LKJ2 chipset. Since this gives you 2 gigabits per port, you have a total bandwidth of 32 gigabits.
Linksys makes this device very easy to set up. Find a spot for it, plug it into a power source, and then plug in your devices.
The LInksys offers several features that make it easier to use. It has Quality of Service Traffic Prioritization (QoS) which guarantees that certain devices, like video and VoIP, are given priority to ensure smooth data streams. It also has PoE prioritization. This mean that if you connect your most important device to port 1, it will always receive priority over the other ports. So while it is an unmanaged device, you do have some control over what device take priority.
The Linksys LGS116P is an ethernet switch  for someone who wants to have to do very little except plug it in and connect the devices.
2. Cisco SG112-24-NA (unmanaged)
https://www.amazon.com/SYSTEMS-24-Port-Gigabit-Switch-SG11224NA/dp/B00VPT8XSQ
Cisco is the world's largest networking company, so it's no surprise that one of their devices makes the list.
The Cisco SG112-24-NA is an ethernet switch that is great for small businesses and homes. The SG112-24-NA  is unique because of its size - 11.0 x 1.7 x 6.7 inches. It's extremely compact.
Primarily designed to be in a horizontal position, the SG112-24-NA  can be wall-mounted as well.
This device some with 24 Ethernet Gigabit RJ-45 ports (10/100/1000). There are also two combo mini-GBIC (SFP) slots that will convert electric currents to optical signal for fiber optic and high-speed connections.
Again this device uses passive cooling so a cooling fan might be needed. For novices that might seem like a small point, but overheating can shut down your switch and even damage it permanently.
The Cisco Systems SG112-24-NA has a total of 48-gigabytes capacity. Again there is the QoS service function that ensures that streaming data , like VoIP and video, are given priority. There is also Loop Detection, which prevents the system getting caught in broadcast storm created by accidental loops during a continuous broadcast. There are also cable diagnostics that look for cable faults and more.
This device has many of Cisco's automated controls that make it an excellent choice for small businesses that need more ports, but still want the ease of a plug-n-play ethernet switch.
3.Buffalo BS-GU 2024 (unmanaged)
https://www.buffalotech.com/products/gigabit-green-ethernet-switches
The Buffalo BS-GU 2024 is another unmanaged device, but this one is designed to be rack mounted. That means that it can go into server racks with other devices. It can also be used vertically or horizontally as well as wall-mounted. One interesting set apart is this ethernet switch can be mounted magnetically using an optional mounting package. You could mount it to a filing cabinet or on the outside of a server cabinet.
There are 24 ports on the Buffalo with a total of 48 Gigabits capacity.
One of the Buffalo's major features is its ability to handle jumbo frames - 9K – Header 14 Bytes + FCS 4 Bytes inclusive. It has a buffer of 512 kb.
The Buffalo is also has 802.3az Green Ethernet technology. It scans for devices that are not operating and turns off power to those ports, saving energy. The ports will remain in sleep mode until the ethernet switch sees an attached device. There is also a loop prevention feature that shuts down any port where a network lop has been detected.
As with most of these devices, the switch communicates with LEDs whose flash patterns tells you if the port is working well or if there is a problem.
4.H3C S1850-10P (managed)
https://network-exp.com/collections/h3c-ethernet-switch-for-small-business/products/s1580-managed-switch-series
The H3C S1850-10P is the first managed ethernet switch on our list. It has 10 Gigabit ports that are easy to administer, allowing you to set the priority of traffic across the switch.
One of the outstanding features of the H3C is that it uses the latest silicon technology making it a more power efficient device, as most ethernet switches are power hogs. Reducing the power usage is an ongoing struggle for switch designers and H3C has made some significant strides.
The S1850-10P is, in fact, a four model series that has three non-PoE version and one PoE+ model. You get all of the other features, but can choose not to have PoE if you don't need it. The four models provide increasing switching capacity, starting at 20 Gbps and rising to 104 Gbps. The S1850-52P provides massive switching power for even the busiest, high volume system.
With Gigabit SFP ports, the S1850-10P provides fiber connectivity. It can be rack mounted or used on a desktop.
Again, using passive cooling, it's recommended that you use one or two cooling fans with the S1850-10P.
This ethernet router comes with a number of additional features: basic Layer 2 features like VLANs and link aggregation, as well as advanced features such as Layer 3 static routing, IPv6, ACLs, and Spanning Tree Protocols.
The H3C S1850-10P is one of the most economical and effective managed switches you can find and with its varying capacities available, this is a series that will adapt to your needs.
While this is a short list of all of the hundreds of switches available, these devices should meet the needs of any small to medium-sized business needing powerful ethernet switching capabilities.